Learn About President and Founder Mitch Harris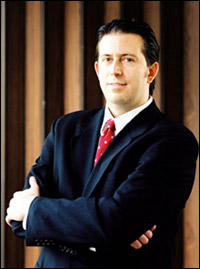 Mitch Harris is considered by many to be one of the most dynamic and articulate public speakers to enter the fields of motivational speaking and business consulting in the last 10 years. With over 20 years of experience in the corporate world and a background in performing, Mitch has a rare ability for electrifying audiences, while teaching practical skills at the same time.
In addition to extensive experience in the sports marketing, investment banking and corporate sales training industries, Mitch was hand chosen to represent the Anthony Robbins organization, considered by many to be the #1 training organization in the world, as a Corporate Sales Trainer, Business Coach and Motivational Speaker. Mitch has also worked as a professional musician, stand-up comedian and both guest and keynote speaker for some of the top corporations in the world – including Century 21, Coldwell Banker, ERA Realty, Northwestern Mutual, Met Life, AT&T, MCI Worldcom, Cablevision, Morgan Stanley Dean Witter, and Oppenheimer & Co. just to name a few.
In addition, for the last 20 years Mitch has been the prodigal student – engaging in a constant and never ending process of self-learning, self-discovery and personal growth. He has studied with and learned from many of the modern day masters of peak performance, human influence and spiritual insight – including individuals like Anthony Robbins, Tom Hopkins, Harvey McKay, Brian Tracy, Les Brown, Zig Ziglar, Neil Donald Walsch, Eckart Tolle, S. N. Goenka, and Mark Victor Hansen just to name a few. Mitch is an avid swimmer and practitioner of Vipassana style meditation, having gone on several 10-day silent retreats.
Mitch's varied experience, along with a deep love for helping and teaching other people is the driving force behind the vision and methodology of Communication Mastery. He has taken the lessons of his journey and combined them with the wisdom shared by others. The training events Mitch delivers are interactive, fun and extremely useful – in the real world. They are quite simply, life changing. In addition, coaching clients report that even one 60-minute session with Mitch can provide the type of insight, perspective and inspiration that help create massive action and world-class results.
To see a brief overview video of Mitch, please click below:
Mitch Harris aka "The Samurai Of Sales"
from
Mitchell Harris
on
Vimeo
.